After years of waiting, Daniel Benmergui's narrative-building puzzle game, Storyteller, is finally here. Published by Annapurna Interactive, the game looks very different from its initial reveals, and there is a lot to like here. In my Storyteller review, I'll talk about one of my favorite titles of the year.
Premises and Gameplay
In Storyteller, each level is essentially a small self-contained story with a premise. This premise is usually a simple event that the player needs to satisfy in order to complete the level. The premise isn't always super specific, which means that players can tell their story with the characters, and scenes available as long as it fulfills the premise. For example, in one of the earlier levels, you need to make up a story about the title "A Heartbreak is Healed" and you have four characters available, and two scenes.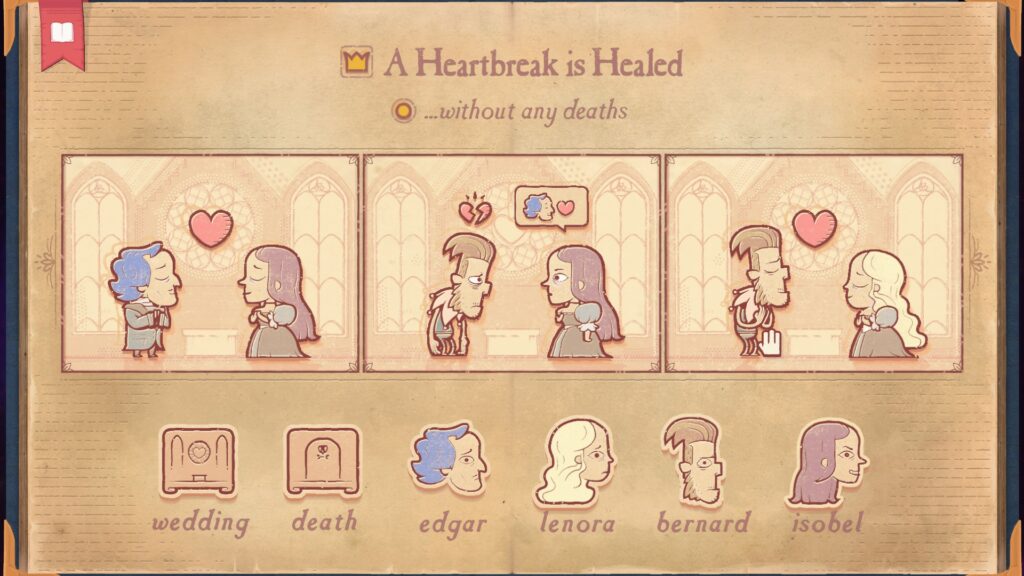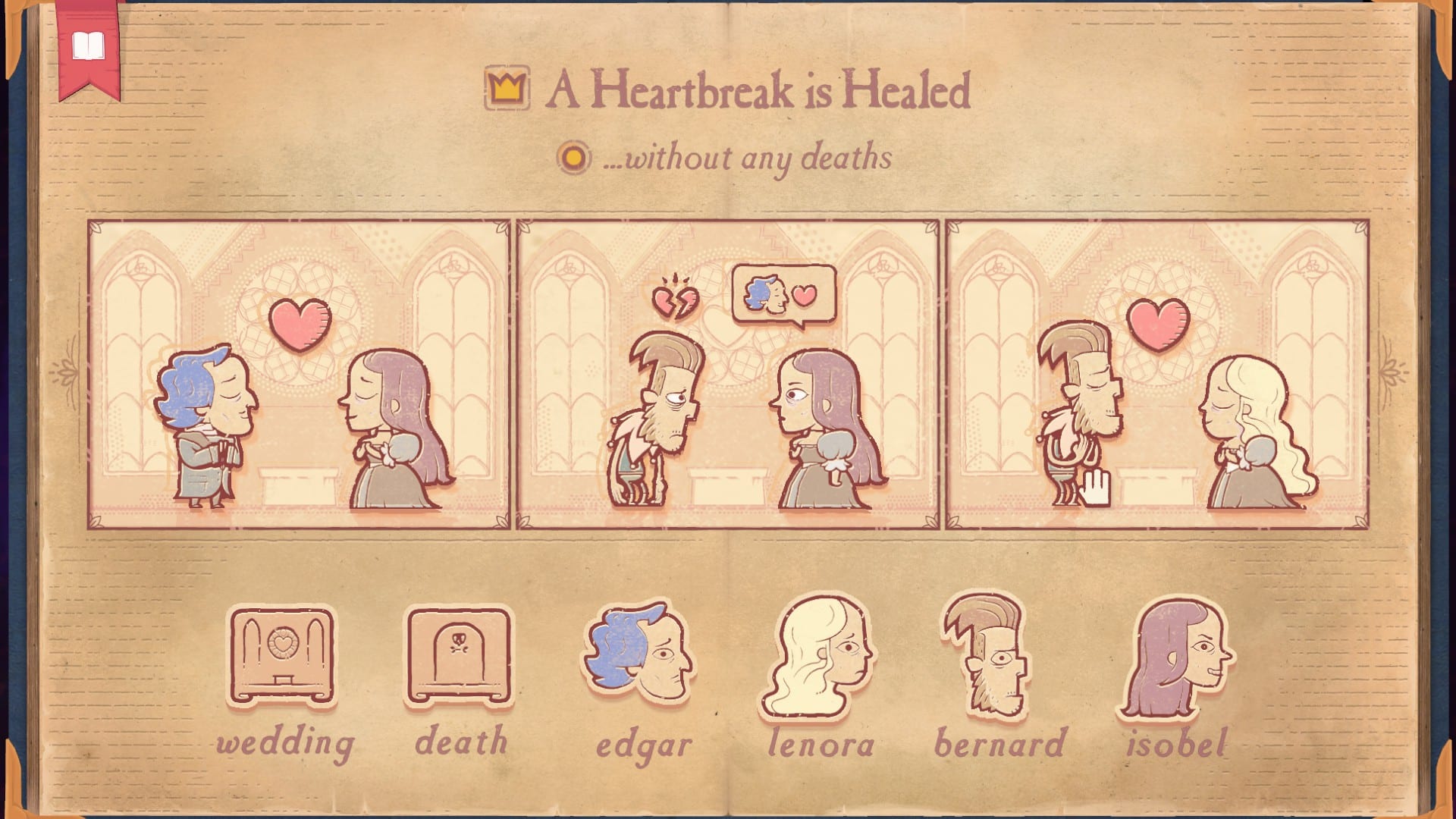 In this particular case, you can either take the rejection route where one of the characters is rejected by someone already committed to a character, but finds love with someone else, or you could use the "death" scene to kill one of the partners, and have them find love again with someone else. Both of these stories satisfy the main premise. Some levels, as the one shared above, have a bonus condition too, which forces you to get a bit more creative with how you tell your story.
I love how the game doesn't penalize you for thinking outside the box and coming up with your own solutions. The number of panels in each level often dictates the complexity and available solutions to the premise.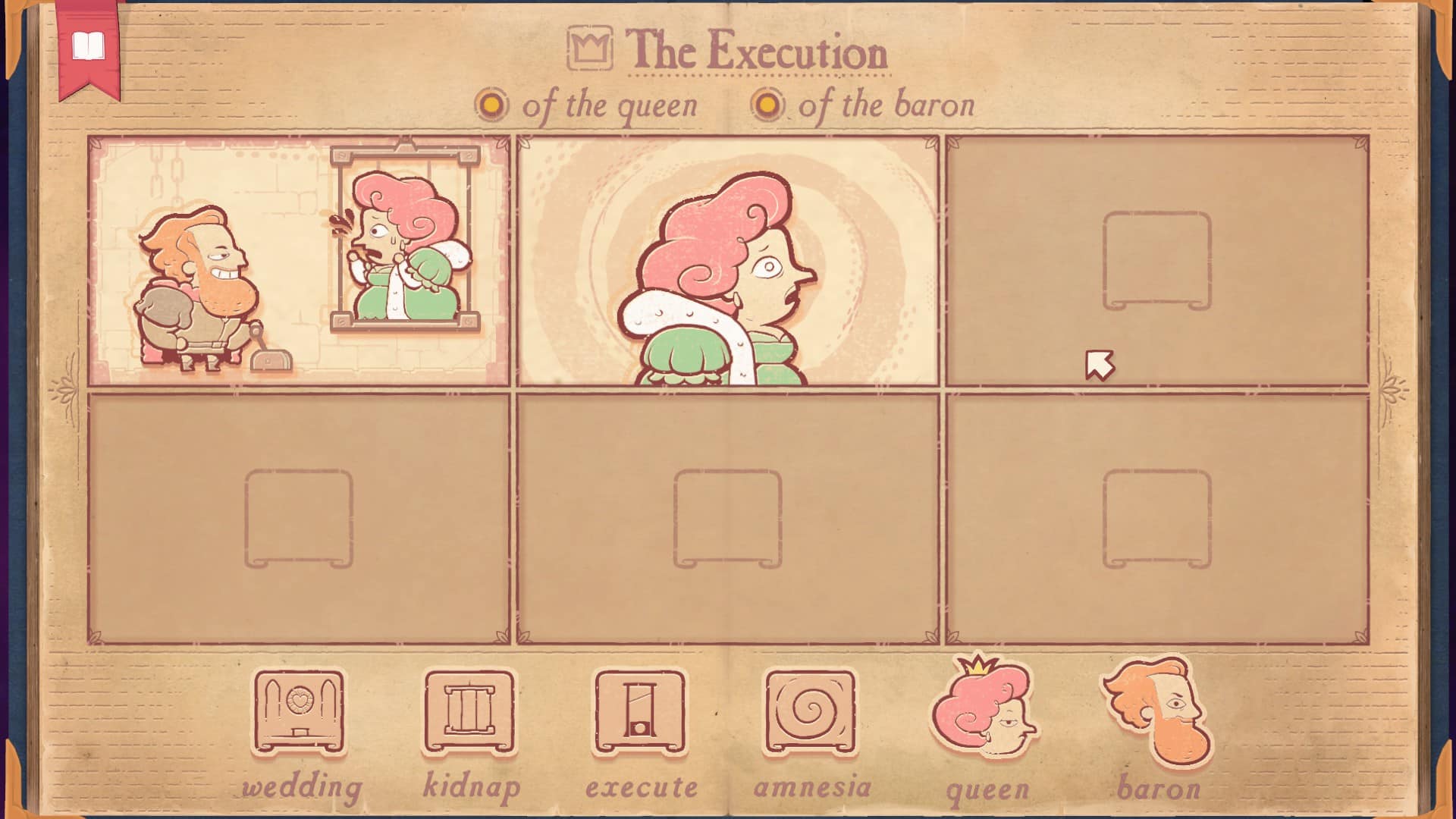 Each scene becomes a tool for your storytelling, and as you progress, knowing what each scene does, and how it will affect the overall story becomes second nature to you. There is so much variety in these, and the game keeps adding more to keep things fresh. You can revive someone, induce amnesia, turn them into a ghost, wear disguises, and so much more.
Stories and Characters
Storyteller's cast of characters spans tons of traditional fairy tales and literary periods with monsters, kings, knights, and monarchs. You'll often see the premise of classical stories, and myths with a humorous spin that readers will certainly enjoy a bit more. The game has a lot of humor, and the ridiculous stories you can create made me laugh throughout the entire experience. A lot of games can't get humor right precisely because they don't involve the player in a meaningful way.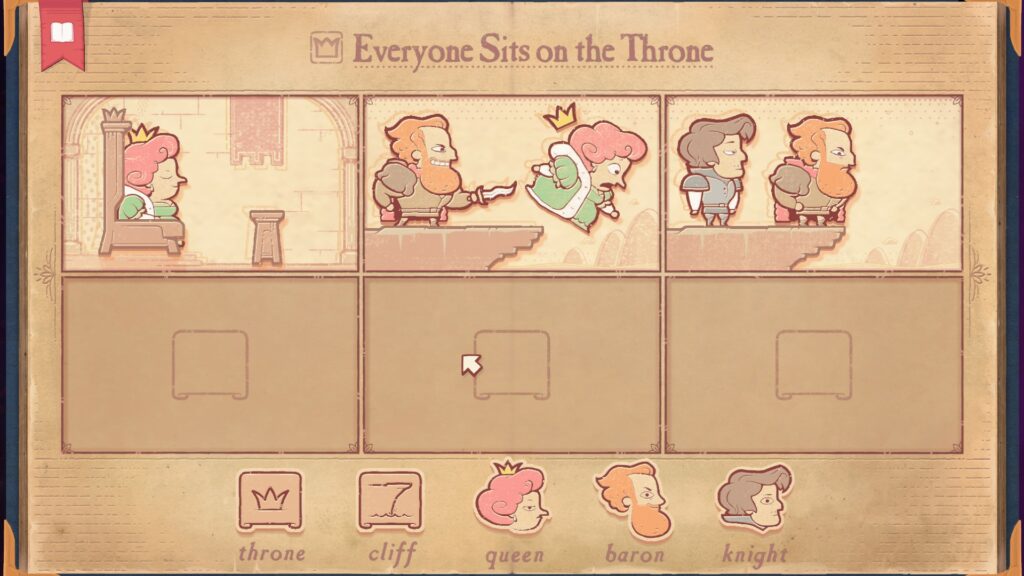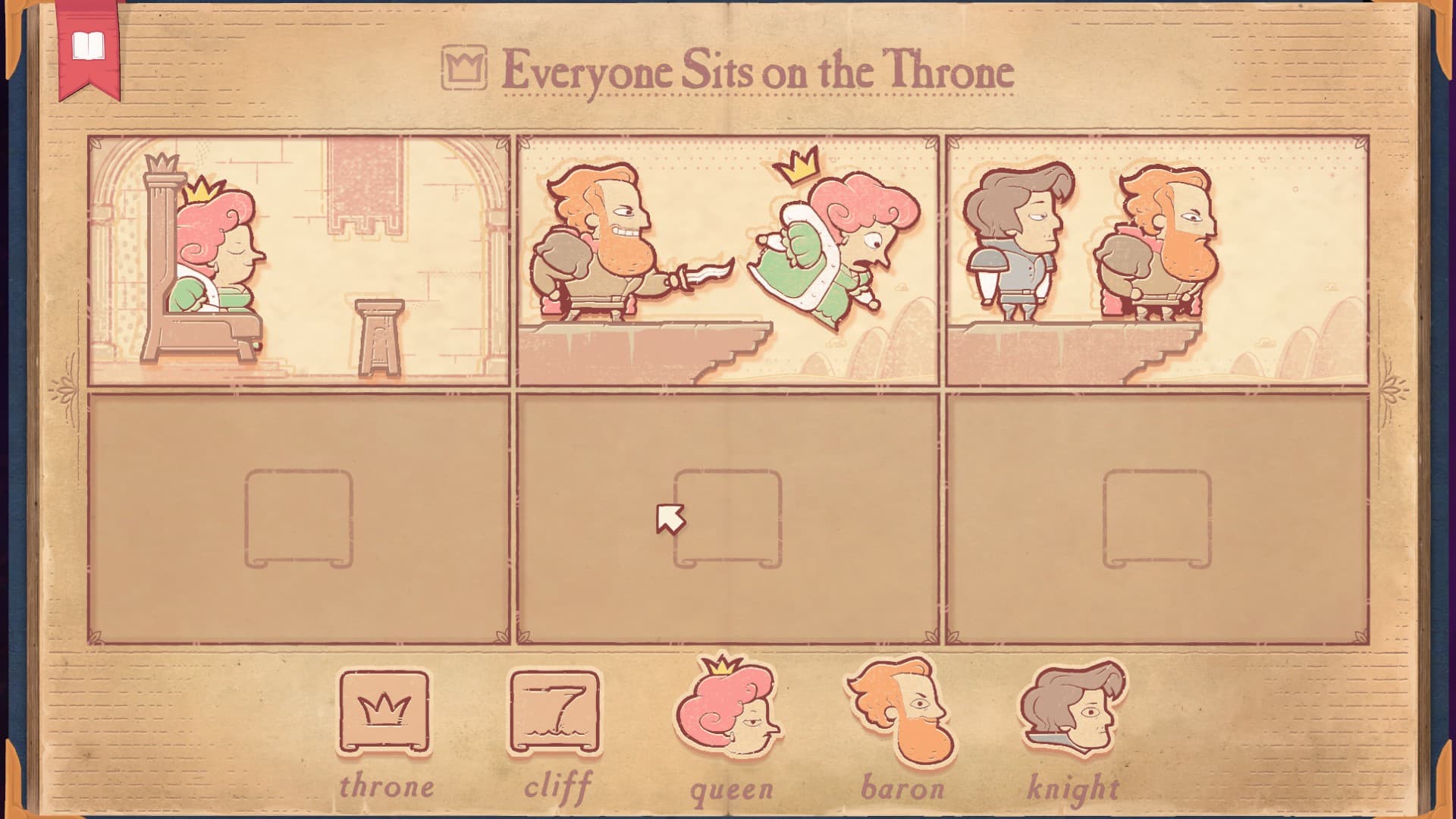 The characters are expressive, and you can often clearly see their state of mind. If someone is heartbroken, a small broken heart will appear above their head. If they're angry at someone, you'll see their expressions change if you place them next to that character. These aren't universal qualities either, because depending on character traits and roles, they might not feel the same level of guilt, love, and heartbreak as other characters.
This adds a layer of personality to certain recurring characters, making them far more memorable.
Controls and Reactive Puzzles
The controls are quite simple, and you only need to drag characters and scenes in and out of panels. You can remove them with the right-click of your mouse, and even rearrange full panels, swapping their positions in the level. These are easy to understand, and most players should instantly feel comfortable with the control scheme.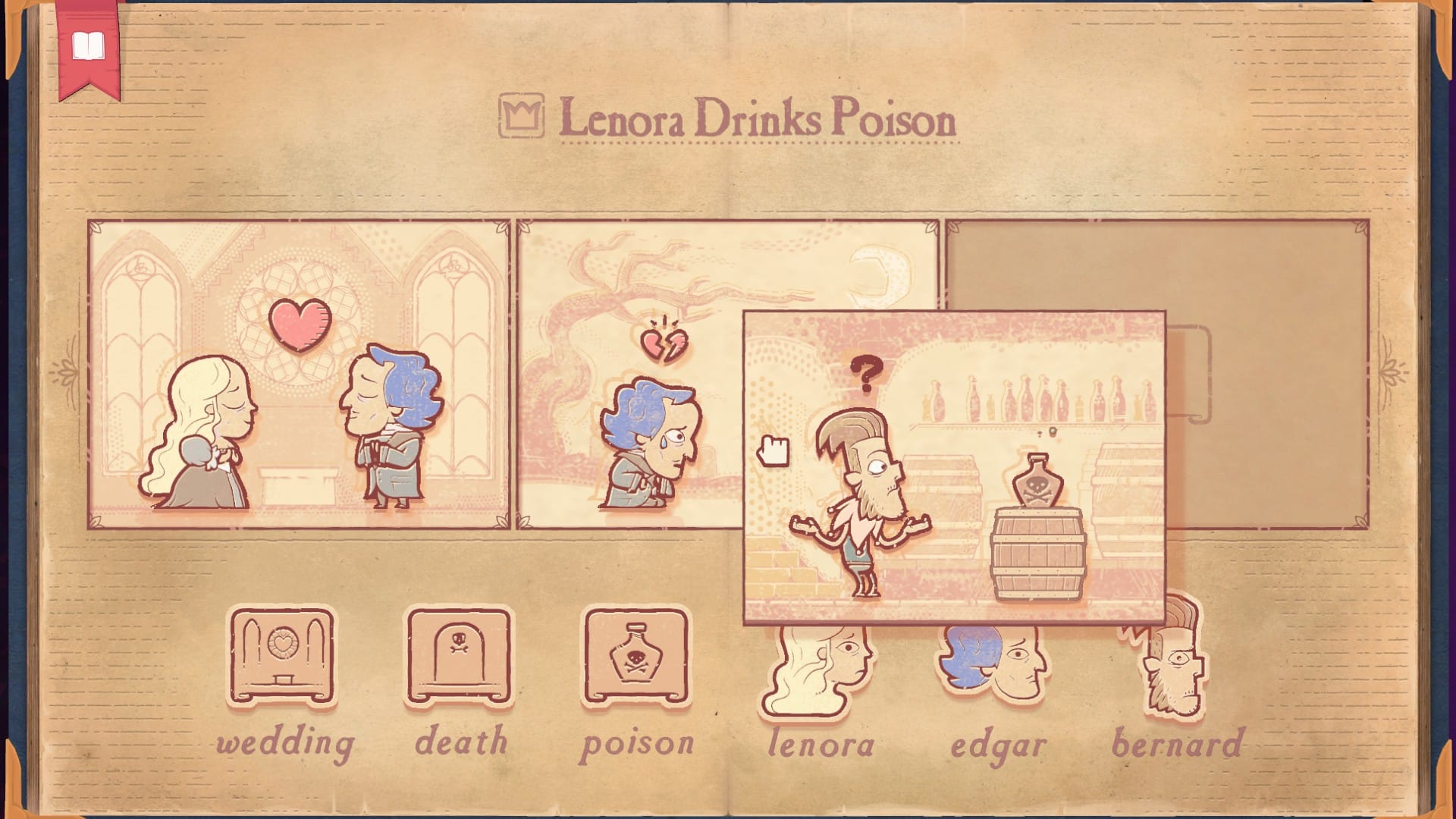 One of the best features of the game is how everything is happening in real-time, as, the characters in each scene are being influenced by previous panels at all times. Making a small alteration in any panel will dynamically change the entire story. Oftentimes, you'll need to create connections between characters to satisfy necessary outcomes in subsequent panels.
The dynamic nature of the game means you don't need to press some button to check if you've got it right. The moment you have the solution, the game will let you know.
Difficulty and Replayability
There are multiple chapters in Storyteller, each with its own themes, myths, and gameplay elements. The difficulty of each level varies, but for the most part, you'll reach the obvious solution of each level in a few minutes. In each chapter, there's usually one very tricky level that will likely take you a while to get right. This means that the difficulty doesn't gradually increase throughout the game, but rather in each chapter.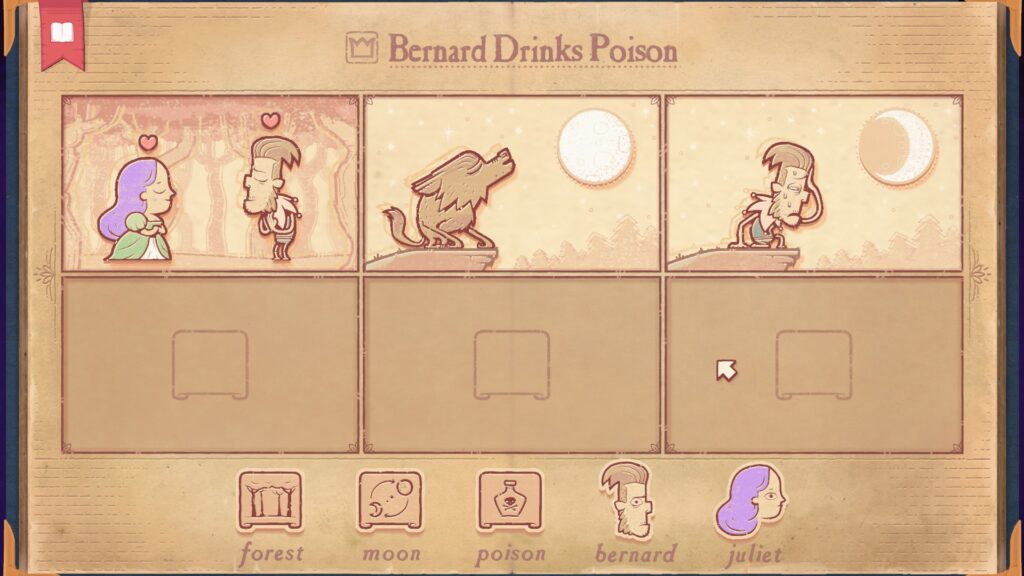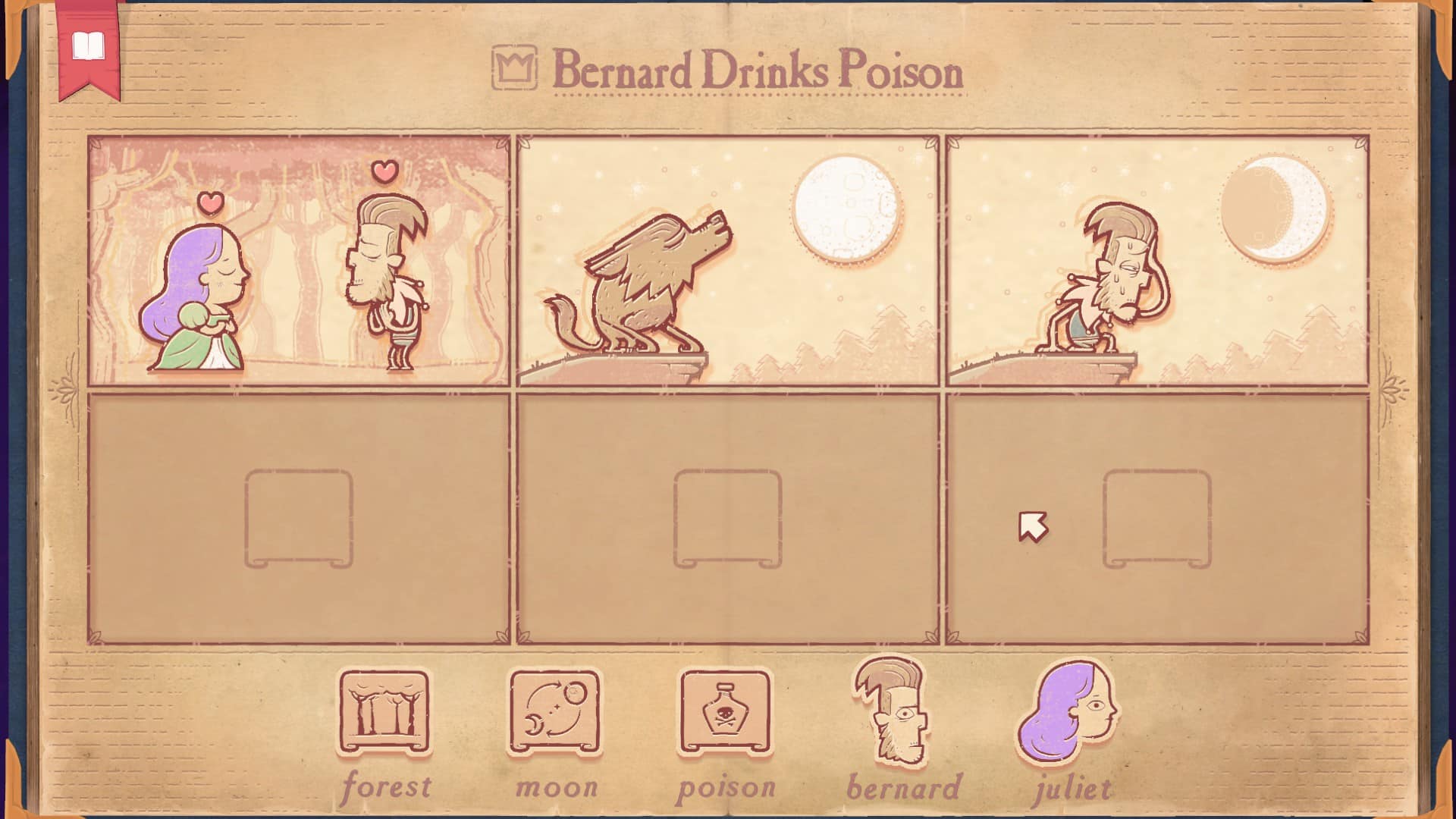 This is a smart choice for a game like this because it means you won't feel frustrated as the game progresses. There will always be easier puzzles to solve, even when you've reached the final chapter. You can also just leave a level and move to the next, and come back to it later. I still haven't completed one specific level, but I managed to complete everything after that.
Given the open nature of how you can solve each level, there is a lot of replayability in Storyteller. Your previous solution will be saved as you progress, so you can always start again, and come up with a different solution.
I actually had a lot of fun playing this game with my friends, and I think there is a lot of potential for backseat assistance, as you figure things out together. It's a very entertaining experience that way and adds a social element to the game because of how funny most of the stories are.
Presentation
Storyteller literally opens up as a book when you launch it, and the presentation is consistent throughout. You flip pages as you move to the next chapter, and there's this paper texture overlayed over everything to immerse you in this fairy tale-esque presentation. As previously mentioned, characters are expressive and are hand-drawn with clothing that complements their roles, and status.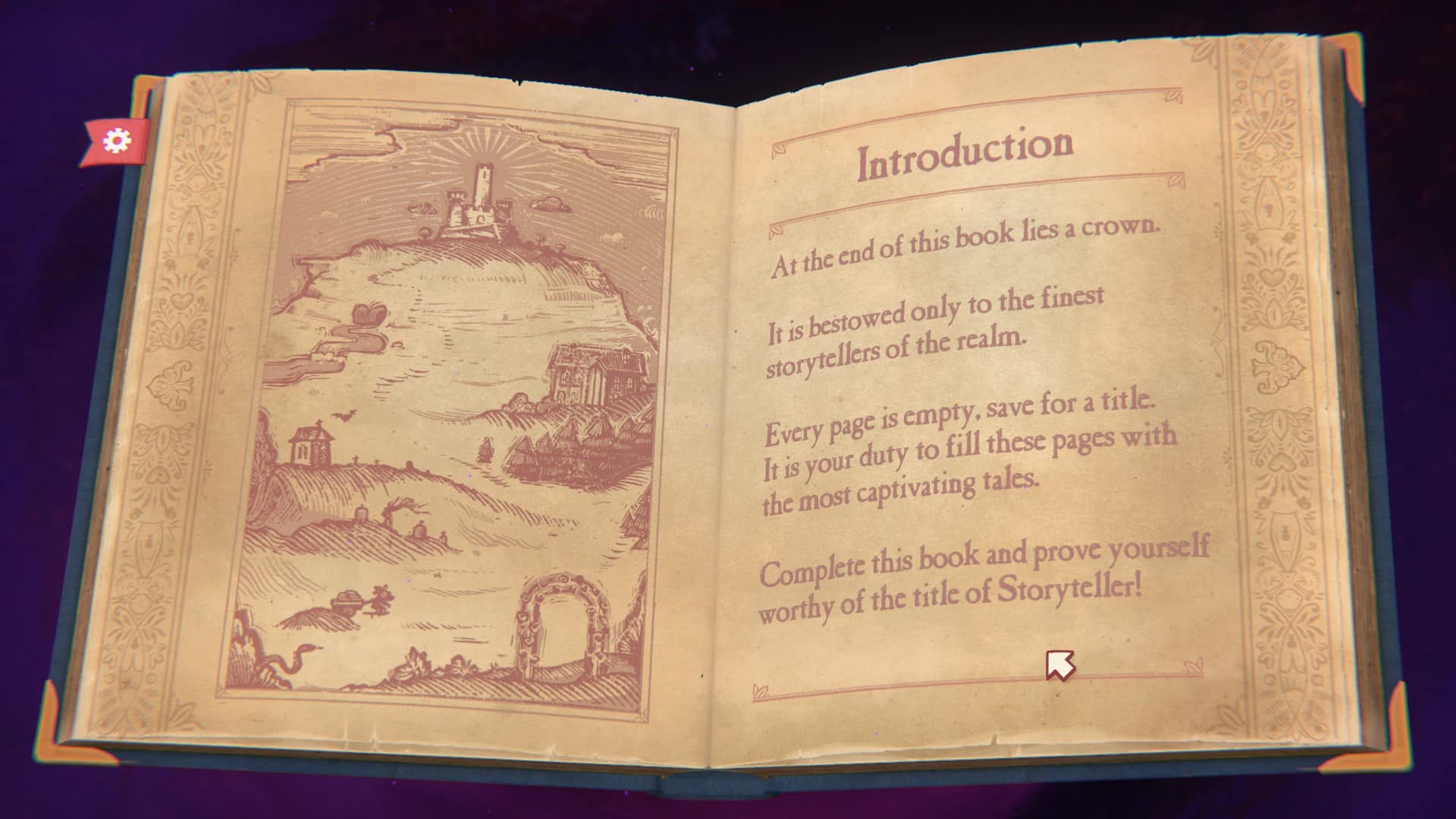 The music is charming that fits the storytelling premise, and there are plenty of sound effects to complement different scenes, and actions. I especially like the sound effect that plays when a character shrugs in a panel, giving you a clear indication that they probably don't belong here.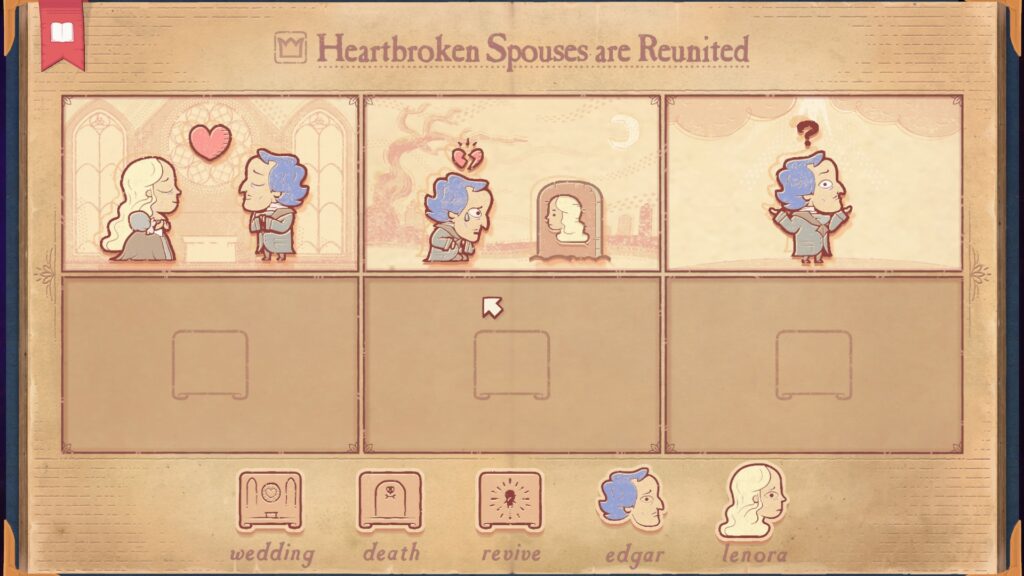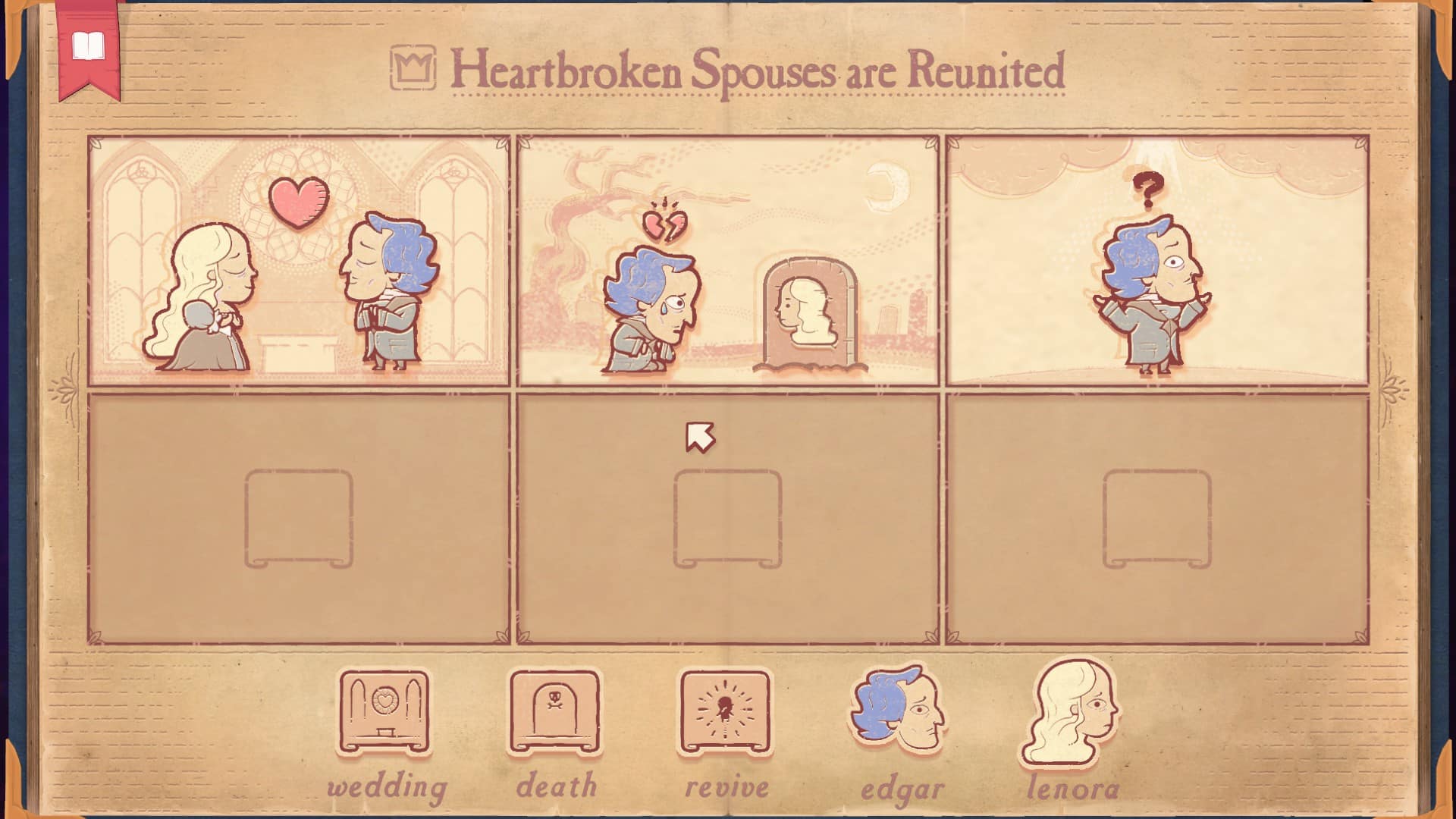 Verdict
I had a lot of fun with Storyeller, and I think it perfectly executes its premise. The controls are easy to understand, and the dynamic nature of the gameplay enhances playability and puzzle-solving. The open-ended nature of each puzzle means you're free to come up with your own solutions as long as the premise is satisfied. Storyteller is an effortlessly funny game with a variety of memorable characters thrown into often ridiculous scenarios full of love, betrayal, heartbreak, and vampires.
If you're looking for an accessible puzzle game with excellent humor, and superb presentation, Storyteller should be high on your wishlist.
What did you think of our Storyteller Review? Share what you think about it in the comments below.
This review is based on the PC version of storyteller. The key was provided by Annapurna Interactive.