Immortals of Aveum is an upcoming single-player first-person action-adventure game from Ascendant Studios and Electronic Arts. This is basically a first-person shooter with magic and spells instead of traditional guns in a fantasy setting. It looks very impressive based on the showing so far and is coming to current-generation consoles and PC in July 2023. Here is the official Immortals of Aveum Pre-Order bonus content you'll get for an early purchase.
Immortals of Aveum Pre-Order Bonus Content
If you pre-order Immortals of Aveum, you will receive the Purified Archlight Sigilwhich boosts the damage of strike and shatter spells.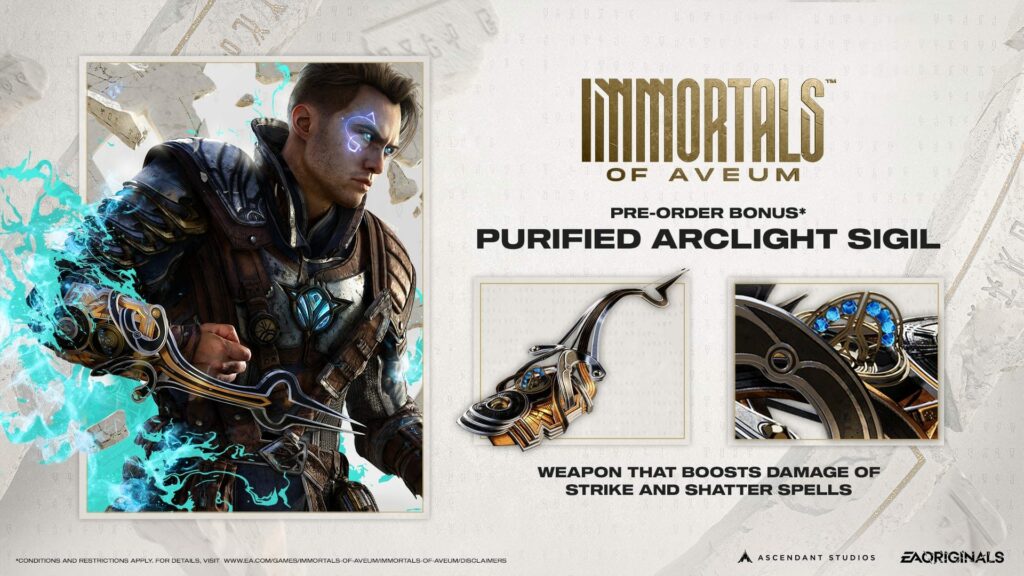 So, essentially this is some sort of attachment that provides bonus damage for certain spells and should come in handy during the game's initial hours. Unlike other bonuses, though, this isn't cosmetic and is actually giving you some gameplay support.
Pre-Order Immortals of Aveum
You can now pre-order the game from the following links.
The standard edition costs $70 we console and $60 on PC. The title will also be available on PC through the EA Play Pro subscription service.
Deluxe Edition
Additionally, there is a Deluxe Edition up for pre-order as well, which is priced at $80 we consoles and $70 we computer. You will get the following extra content in this edition.
Purified Arclight sigil
Ancient Relics of Aveum Pack

Triarch's Wraith Sigil
Ring of Rasharn
Immortal Ring
Aristeyan Ring
Bracer of the Colossal
Sky Island Gauntlet
Dresnyr Lens
Lucian Chain
Vial of the Pentacade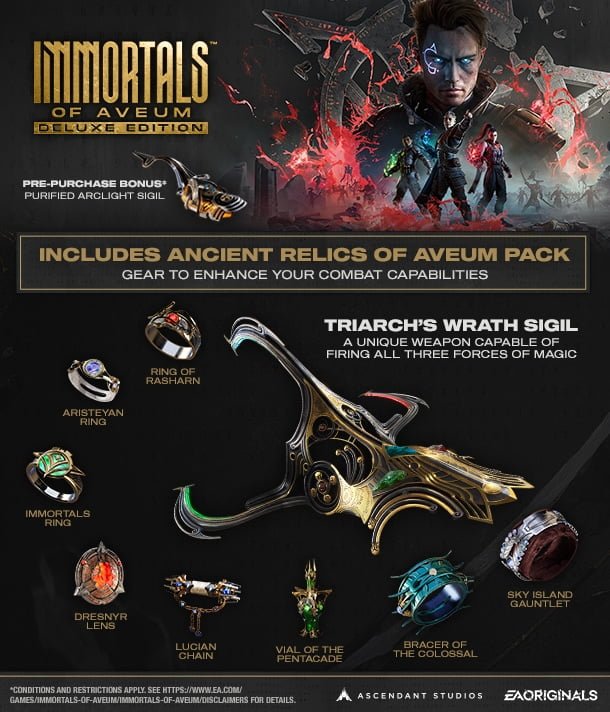 Immortals of Aveum Release
Immortals of Aveum is coming to PC, Xbox Series S|X, and PS5 on 20th July 2023.
While you're here, make sure to check out our other pre-order guides for other upcoming releases, including MLB The Show 23, LEGO 2K Drive, and Dead Island 2.
What do you think of the Immortals of Aveum Pre-Order Bonus content? Do you think it warrants an early purchase? Share your thoughts in the comments below and let us know.